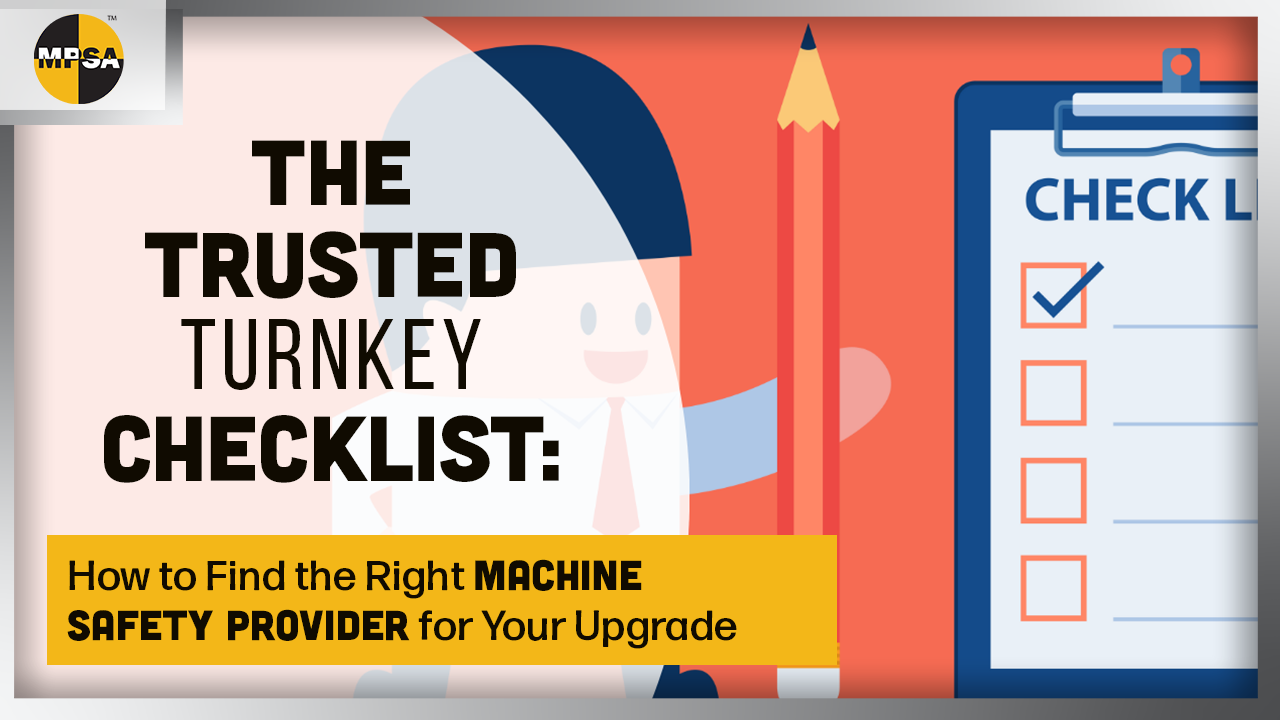 The Trusted Turnkey Checklist: How to Find the Right Machine Safety Provider for Your Upgrade Project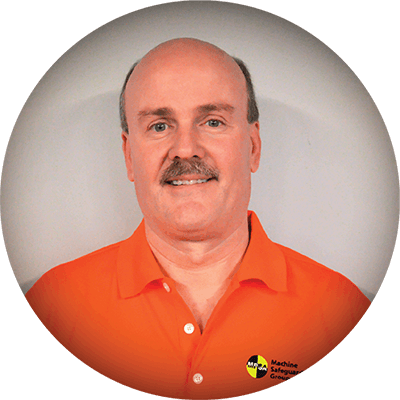 Here at MPSA, we define turnkey machine safety solutions as designed, built, installed, validated, and ready to operate. But finding a trusted turnkey machine safety provider can be difficult, especially when you need help knowing how to get started. Today's blog will review the trusted turnkey checklist, a list of attributes your turnkey machine safety provider should have before you choose to work with them.

Skip to a Section




Why is Turnkey Best for Machine Safety?
Collaboration, communication, and full integration throughout the entire process are the most important factors. Still, there are so many other reasons why a turnkey provider (providing the full solution from start to finish) is the best option for your machine safety upgrade. That's why we wrote a whole blog on the topic. Check it out for a thorough explanation - Why is Turnkey Best for Machine Safety
How Do You Pick a Machine Safety Provider?
A few turnkey machine-safety companies, such as Airline's machine safety division, MPSA, are available in today's marketplace. However, while many claim to provide turnkey services, several only offer partial solutions, which can mean more work for internal stakeholders, adding additional research and outsourcing for various aspects of the project.
Luckily, it's possible to determine upfront if a machine-safety company is really offering turnkey services that fit your needs. To help you make an informed decision, here is the turnkey checklist and some questions to ask when interviewing a potential turnkey machine safety provider.

The Trusted Turnkey Checklist
Describes their hazard analysis methodology
The hazard analysis methodology is crucial for finding a trusted turnkey machine safety provider; OSHA says you must conduct and document workplace hazard analysis in 29 CFR 1910.132(d)(2). As a result, confirm your chosen turnkey machine safety provider has the necessary technical capabilities and experience to conduct a proper machine safety hazard analysis. Not all hazard analysis methodologies are suitable for machine safety upgrade projects. Confirming this is critical because a thorough hazard analysis is the foundation for identifying potential risks and the hazards associated with the machinery and developing effective safety measures to mitigate those risks.
Ensure the hazard analysis provided is of sufficient quality and detail. The quality and detail of the findings enable the design and engineering solutions to be provide safe and compliant solutions. Depending on your machine type and the urgency of your upgrades, several methodologies exist for conducting a machine-safety hazard analysis. Your hazard analysis methodology—qualitative or quantitative—must also be accepted by your employer, any regulatory agency, and possibly your insurance carrier.
Questions to ask:

Can you describe the process you use to identify and assess hazards in a machine-safety project?

What is your machine hazard analysis methodology?

What techniques do you use to determine the potential risks associated with a particular machine or equipment?

Does your machine safety hazard analysis methodology determine a Performance Level (PL) for each finding?
Open to Collaboration

Although machine safety companies are experts in their field, it's important to remember you are the expert on your company's operations and machinery. Therefore, highly collaborative discussions are needed to capture input and suggestions from all internal stakeholders to ensure a successful hazard analysis process. While this approach assures safety and compliance, it also helps stakeholders meet their production, productivity, and quality requirements.

Questions to ask:
Can you work with our internal stakeholders to ensure a successful project outcome?

How do you typically collaborate with clients throughout the project?
Offers Full Integration
Here is where some "turnkey" machine safety providers encounter difficulties with project management and timelines. For example, if you choose a machine-safety provider that only conducts hazard analysis, they may not offer actual solutions, and you'll need to start your search all over again.
It's always best to choose a partner who identifies the hazards and designs, engineers, fabricates, installs, and validates your safety upgrades, resulting in a fully integrated and turnkey solution. By doing this, the project can be completed efficiently without scheduling disruptions and material procurement issues, and it will also reduce the risk of installation delays, cost overruns, and ineffective solutions. With this process, there is no "finger-pointing" for project management.

Questions to ask:

Do you have the technical expertise and resources on staff to provide a turnkey solution for our machine safety project?

Can you handle our machine-safety upgrades' design, engineering, fabrication, installation, and validation?
Offers a Variety of Safety Components from Different Vendors


Although a single-component manufacturer may have a range of safety devices, they likely only have some of the components you need for your project. Therefore, it is better to choose a machine safety partner with access to several different manufacturers of safety components to ensure you receive the device that best suits your needs, rather than settling for the closest fit available. Additionally, ensure your safety partner can provide spare parts, troubleshooting, and other post-installation support services.

Questions to ask:

Do you have partnerships with different safety component manufacturers?

What is your process for selecting the most suitable safety components for a project?

Shop Machine Safety Products Today!


As a division of Airline Hydraulics Corp., MPSA can provide top-quality machine safety components and devices from various vendors.
Offers a Two-Phase Cost & Project Approach


A two-phase approach is essential when considering machine safety upgrades. In the first phase, the partner should provide you with a clear understanding of the scope, technical requirements, and costs of the required upgrades. This allows you to decide on the best financial approach for your organization, whether upgrading, machine replacement, or outsourcing the work.
In the second phase, the design and engineering should be precisely tailored to fit and be compatible with your production and maintenance needs, ensuring that the upgrades do not reduce productivity, or quality or create new hazards.

Questions to ask:

How do you ensure that the project stays within budget and schedule?

Can you provide options for phasing the project to meet our financial constraints?

How do you handle change requests during the project phases?
Has In-House Safety-Control System Expertise


Today's automated equipment and robotics rely heavily on mechanical process-control devices and programmable logic systems. These devices emphasize the need for safety-rated components, programmable safety controllers, and control-reliable devices and wiring methods. So when selecting a turkey machine safety provider, it is vital to ensure they have expertise in machine safety-control systems and can handle the entire project in-house—reducing the likelihood of delays, cost overruns, and ineffective solutions.
Your chosen provider must also have control design experience and be able to select the appropriate safety-control devices. Also, they need to be able to configure the wiring and circuits to reliably and compliantly interrupt motion and energy. As noted above, determining the reliability and performance level (PL) required for the machine's safety-control system devices and circuits is critical to any machine-safety risk assessment.
Questions to ask:

Do you have experience with safety control components and programmable safety controllers?

Can you provide examples of previous projects where you have worked on safety control systems for high-speed and automated equipment?
They Apply Key Machine Safety Parameters


The entire goal of a machine safety upgrade is to ensure compliance with relevant safety standards, minimize workplace accidents, and maintain worker safety. Therefore, selecting a turnkey machine safety provider with a systematic and comprehensive approach to evaluating all relevant factors when determining a machine's safety is essential.
Check out our past blog post, Never Hire a Machine-Safety Company Without Asking These 10 Questions, for a list of key machine safety parameters the turnkey provider you choose should be following.
Can Reverse-Engineer & Upgrade Legacy Equipment


When upgrading the safety of older equipment, it is common for the original equipment manufacturers (OEM) documentation, drawings, or schematics to be nonexistent or outdated. Choosing a turnkey provider with reverse engineering or forensic control-engineering skills is essential in such cases. This expertise is required to precisely identify the control logic of your machine and determine where machine interrupting or stop controls can be integrated for dependable and compliant control.

Questions to ask:
Are you able to perform reverse engineering to understand legacy equipment?

Have you successfully completed machine safety upgrades on legacy equipment before?

What is your process for identifying the control logic of legacy equipment?

How do you ensure the upgraded legacy equipment meets current safety standards?
Offers a Variety of Project Documents


It is important to choose a turnkey provider who can provide CAD drawings for all mechanical upgrades and electrical and control-system scope descriptions and schematics. These documents should be provided to you for approval before any fabrication or changes occur. They are crucial in describing the functionality of the new changes and forming the basis for any management of change (MOC) or mechanical integrity (MI) documentation that your company requires.
Questions to ask:
Are your project documents available for approval before any changes take place?

Can you provide CAD drawings for mechanical upgrades?

Can you provide electrical and control-system schematics for the upgrades?

Can you provide project documentation in multiple formats?
Validates Safety Controls Systems

Upgrades to a machine-safety control system require a complete system validation, which should not be limited to just a functional checkout of each device. A formal validation protocol needs to be created, including inserting faults into the safety-control circuits, to confirm the entire circuit design, component selection, and wiring methods are of the necessary reliability or performance level. It is recommended to use a recognized software tool that complies with ISO-13849 to ensure the validation process is comprehensive and reliable.

Questions to ask:
Do you validate the safety control system?

Is the validation process documented and provided to the customer?

How do you ensure the validation process meets relevant safety standards and regulations?
Consider this...
Machine safety soultions differ from your average health and safety upgrade because they are often much more complex and costly. You also need your internal stakeholders' support to move forward. So don't be surprised when your company is paired with your machine-safety partner for an extended time period, possibly spanning several months or even years. And even if your partner excels in their field, challenges and setbacks may arise, particularly during the early stages. Therefore, you must choose a trusted turnkey machine safety provider to address unexpected changes and delays while striving to attain compliance as soon as feasible.
Summary
Finding a trusted turnkey soultions provider for complete machine safety solutions can be deceiving, especially when you need help knowing what to look for or ask. The trusted turnkey checklist is a compilation of essential qualities your chosen turnkey machine safety provider should possess before you collaborate with them.
MPSA is a trusted turnkey machine safety provider offering a fully comprehensive six-step solution for all your machine safety upgrades. Learn more about our start-to-finish turnkey machine safety solutions here.


Machine Safety Resources
Most Recent
Safety must stand as an unwavering pillar in any laboratory setting, ensuring innovation thrives without compromising the well-being of those at the...
At your facilities, the utmost priority is the safety of your employees and the integrity of your operations. Every day, your machines are crucial in...
Ensuring the safety and well-being of employees operating industrial machinery requires a deliberate and well-designed approach. Applying "quick fixes
Did you know there's a crucial connection between machine safety maintenance and the well-being of your workers? It's true! And as technology...
Here at MPSA, we define turnkey machine safety solutions as designed, built, installed, validated, and ready to operate. But finding a trusted...
When it comes to machine safety development, it can be a struggle to know where to start. But through many years of experience, we know a systematic...
Machinery significantly improves workplace efficiency and productivity, but machine safety deficiencies (mistakes) can put your employees, business,...
Trying to determine whether or not your equipment is safe and compliant is challenging, especially when you don't have in-house personnel or...