MPSA's Machine Safety Survey is used to identify visible and hidden equipment hazards, and determine if the investment in a full a risk assessment is warranted, potentially saving thousands of dollars which could be applied toward implementing the proper solutions.
The safety survey takes approximately one hour per machine to complete. It uncovers and clearly notes equipment shortcomings, and flags equipment requiring immediate action using a numerical value to create a three-tier identification system.
Red – High Priority Risk
Yellow – Medium Risk
Green – Very Low or No Immediate Risk.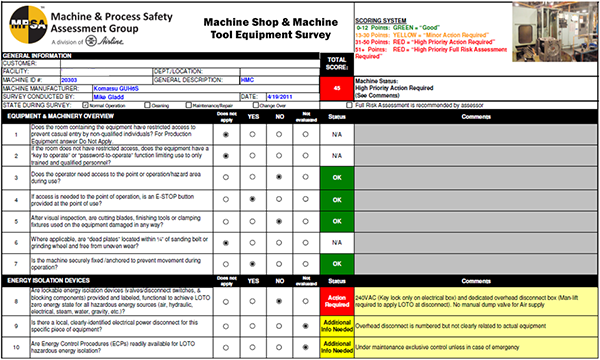 The questionnaire has over sixty specific questions and decision points closely aligned with OSHA, ANSI & other industry-recognized consensus standards. The questions are designed to assess in detail the safety and compliance of machinery during set-up, adjustments, normal operations, cleaning and repairs. The survey evaluates mechanical guarding, safety control devices and the zero-energy isolation devices used for applying lockout/tagout (LOTO) devices.
The survey is divided into these six sections:
Equipment & Machinery Overview
Energy Isolation Devices
Mechanical Guarding
Safeguarding Devices (Guard interlocks, presence-sensing devices, etc.)
Electrical & Controls (Safety circuits, wiring components, and signaling)
Operational/Maintenance Procedures & Documentation
The completed survey provides a numerical score and indicates when a more detailed machine safety risk assessment is warranted.
The accompanying recommendation report provides a detailed outline of any safety or compliance gaps including recommendations with mechanical and electrical details and the estimated cost (+/- 10%) to complete them.
Provide a compliant and safe working environment.
Take the first step. Ask MPSA to identify your machine safety and compliance issues. We can do the rest.
Our thorough safety risk assessment identifies and evaluates the risks associated with machinery and proccesses.
Our recommendation reports lists the identified hazards and prioritizes them based on threat levels.
Have a machine safety concern? Tell us about it!
Request an MPSA professional on-site visit to identify hazards in your machinery and processes.