Machine Safety Training
On-Site Sessions – Customized Training Videos Machine Safety Trainer Units
What do you learn?
MPSA's seminars help you stay up to date on industrial safety laws and guidelines changes. Our seminars focus on relevant machine guarding and control reliability safety standards, including ANSI, OSHA, NFPA, European norms, and CE compliance. In addition, MPSA reinforces vital concepts through hands-on safety demos.
Who should attend our safety training?
EHS personnel, plant maintenance personnel, plant engineering staff, production managers, and all managers concerned with the safety of plant personnel.
General Machine Safety Training Topics
Understanding Your Facility's Machine Safety Needs
This one-hour session is for plant management, EHS, engineering, maintenance, automation/instrumentation personnel & machine operators. Our sessions include a practical demonstration & hands-on review of operational guarding, safety control devices and controllers, and control-reliable safety circuits using the MPSA Machine Safety Trainer.
General Machine Safety
Our one-day class is helpful to anyone responsible for the design, operation, or maintenance of machines. During the session, you'll review legal requirements, risk assessment, types of hazards, the several levels of circuit design, and available types of safety equipment. Then, learn how they all come together for a complete safety solution.
Custom Safety Training Sessions
MPSA can customize a training session to meet your company's most pressing concerns. These training sessions can be in-person at your facility, remotely through video-chat, or webinar formats. Class topics can include, but are not limited to the following:
Machine safeguarding devices

Interlocking principles and devices
Emergency stop devices, light curtains, beams, and scanners
Mats, edges, and bumpers
Two-hand controls
Enabling devices
Monitoring relays and PLCs

Arc-flash protection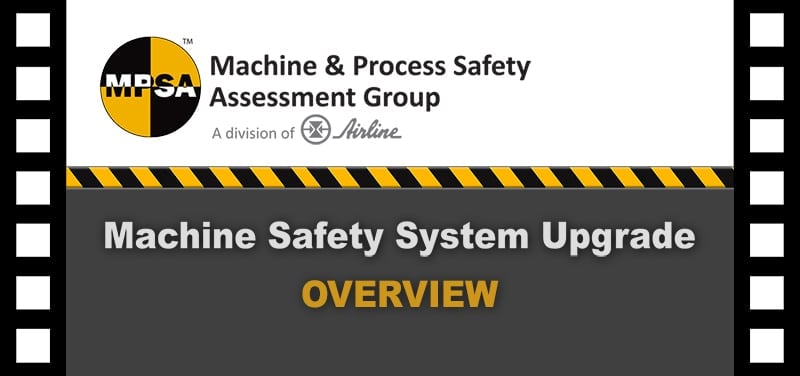 MPSA produces customized training videos to standardize employee onboarding and machine safety procedures. Safety training videos can work as part of a safety solution provided by MPSA or provided as a stand-alone service.
Unlike traditional video production companies, we have machine safety experts to help ensure the video is comprehensive and includes all the proper safety instructions relating to your machinery and processes.
We can create machine safety training videos from start to finish, including:
Consultation(s) to formulate the outline of your training video(s)

Content writing for captions and script

On-site filming

Professional film editing with the capabilities to include:
On-screen captions

Spliced-in footage and photos from other sources

Music and voice-overs
Choice of the output file type and delivery method (DVD, private dropbox file, USB drive, etc.)
Do you need to train others on machine safeguarding concepts?
MPSA's portable machine safety trainer uses six access points to teach students and personnel about compliant vs. non-compliant machine safeguarding methods.
Safety control components included:
Programmable safety controller
Safety light curtains
Locking safety door interlock switch
Non-locking, non-contact safety switch
Positive force-guided relays (FGRs)
Emergency stop
Demonstrates these key safeguarding concepts:
Dual-channel redundancy of the emergency-stop circuit and the safety input/output devices
Monitored reset of emergency stop circuit
Reliable control of the motor
Safe-distance calculation for safety light curtain placement
Proper selection and placement of physical guarding
If you think you have implemented a safe and compliant safety control system, think again! Our safety trainer demonstrates how the improper selection or utilization of safety components can leave you with a non-compliant solution. Ask about purchasing one for your training needs.
Provide a compliant and safe working environment.
Take the first step. Ask MPSA to identify your machine safety and compliance issues. We can do the rest.
Have a machine safety concern? Tell us about it!
Request an MPSA professional on-site visit to identify hazards in your machinery and processes.