Safety Risk Assessments Scalable to Your Needs
When it comes to machine safety, safety assessments are the first step towards safety standard compliance. MPSA offers two scalable assessment solutions:
Machine Safety Risk Assessment
High-Level Safety Analysis
A full risk assessment is usually required for more significant or high-level applications. This detailed assessment identifies hazard points and evaluates them with applicable safety standards. IThis review takes approximately 6-8 hours per machine to complete.
Machine Safety Survey
Mid-Level Safety Analysis
A full risk assessment may not be necessary for smaller or simplified applications. Therefore, our Safety Survey follows a questionnaire closely aligned with the OSHA, ANSI & other consensus standards. This assessment takes approximately one hour per machine to complete.
A certified safety consultant thoroughly measures safety hazards and their severity, exposure, and probability with a safety risk assessment. Then, based on facility input, MPSA will rate the frequency, severity, and level of avoidance for each risk. A decision tree is then used to determine the absolute risk of the machine (based on ANSI-B11) or for each safety function (based on ISO 13849).
The certified safety consultant will identify points of hazard during all potential conditions of machine use. They will also evaluate the probability of injury, severity level, and the actual or potential exposure of all workers. They will communicate safety risk findings throughout the entire process and will work together to prioritize solutions for the most severe safety risks.
The Safety Risk Assessment Includes:
Document & Training Assessment
We will review and evaluate all equipment usage documentation, including equipment and training manuals and maintenance logs. We will also examine the process used to determine operator training, outlining evaluations.
Control Reliability Assessment
We will identify the non-mechanical hazards that affect the control reliability of the machine. Control reliability and non-mechanical risks pertain to the electrical, pneumatic, and hydraulic components and circuits and their operations related to the safety of the equipment.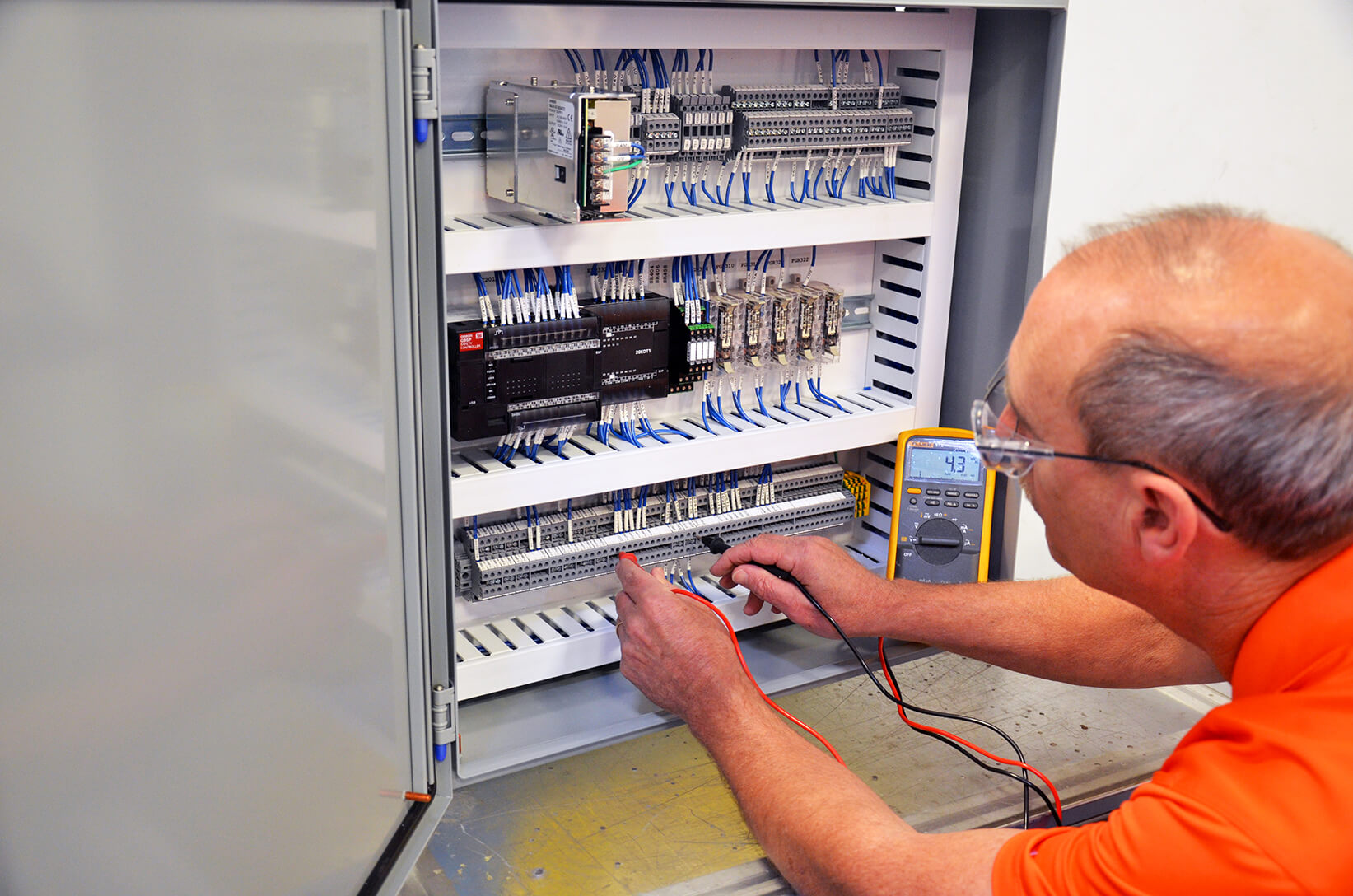 Procedural Assessment
We will review and evaluate the methods and procedures used in the processing, use, handling, or storage of materials, tools, and substances used in your application.
Risk Prioritization Matrix
By estimating the length of exposure to the hazard and assessing the worst injury possible, the risk prioritization matrix can be used to determine the level of threat from each hazard that has been identified. Prioritizing hazards can prepare you to correct the most dangerous situations first and make plans to correct lower-ranking hazards in the future.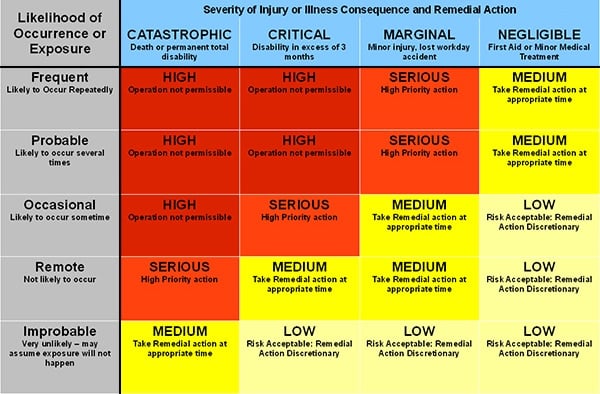 You will receive industry-accepted safety recommendations to eliminate or reduce the mechanical hazards that have been identified. Learn more.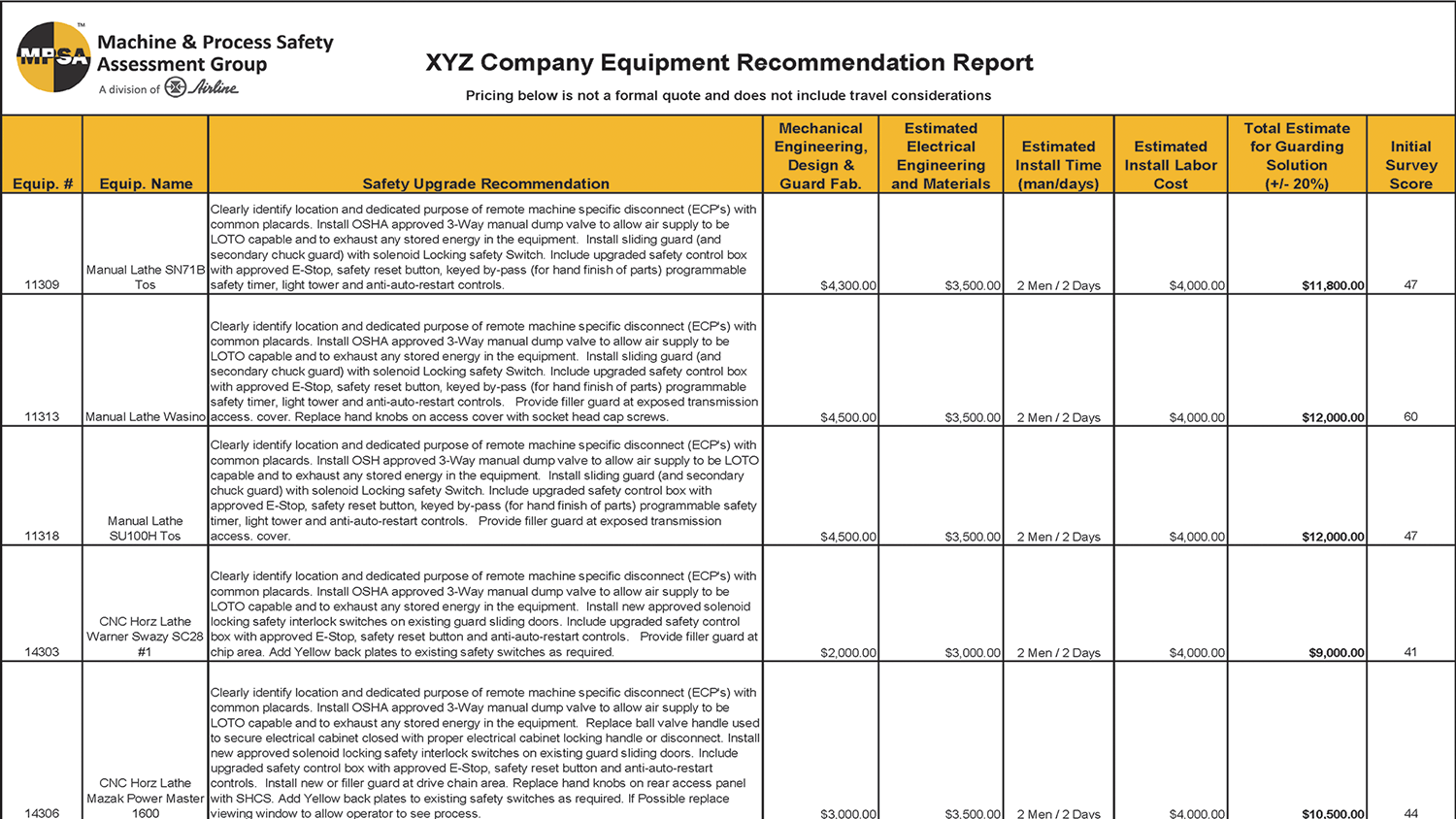 We don't like to brag, but our clients love us!
"The Machine Safety Group at Airline has been servicing Johnson & Johnson companies for over 10 years with full turnkey guarding solutions. We have successively completed over $8,000,000.00 in guarding solutions."
Get a Free Machine Safety Consultation
OR submit the form below to plan a hazard assessment.
Submit this form to request a Hazard Assessment from MPSA. A machine safety expert will be in touch with you shortly and schedule a free consultation. (During the hazard assessment, we'll also provide you with a free MPSA Gotcha Stick!)
Haven't read our blog? Then you're missing out on best practices and advice from our MPSA experts!
Have a machine safety concern? Tell us about it!
Request an MPSA professional on-site visit to identify hazards in your machinery and processes.