After conducting a Risk Assessment or Safety Survey, we provide a Recommendation Report which lists suitable measures to address each action item uncovered. This report provides a prioritized and detailed outline of any safety or compliance gaps, including recommendations with mechanical and electrical details.
The Recommendation Report also includes cost estimates (+/- 15%) to help streamline your internal budget approval process. (A fixed price is issued after the project is thoroughly detailed during Phase 1 Engineering).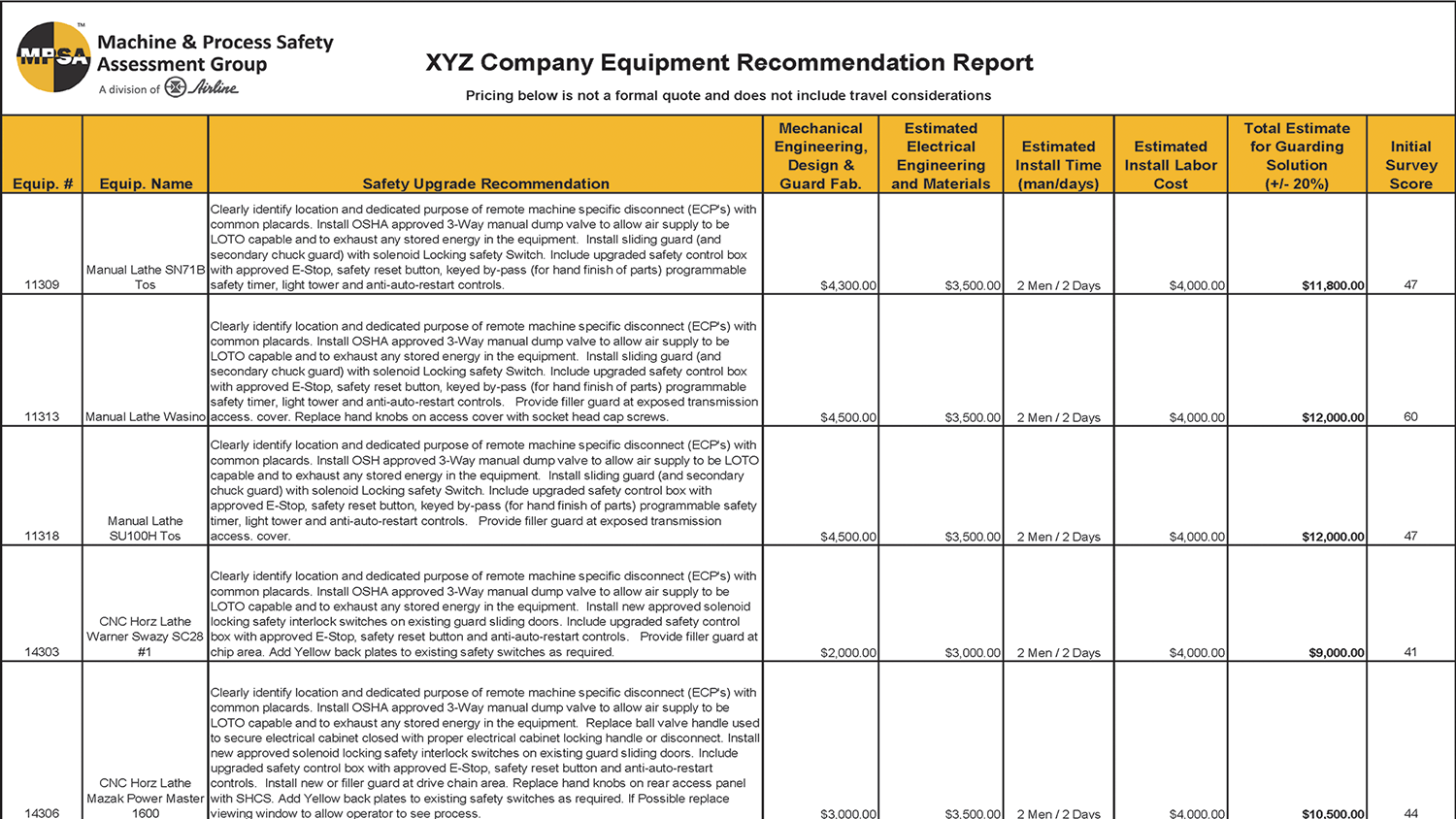 For each suggested solution, the report includes:
Detailed descriptions of the solution (along with a consultation to thoroughly explain the suggestions)

The estimated cost of mechanical engineering, guarding and fabrication

The estimated cost of electrical engineering and materials

The estimated installation time

The estimated labor cost

The total estimate for the solution

The initial survey score (which helps with prioritization)
The total estimates provided in the Recommendation Report covers the entire MPSA Solution, including:
MPSA's Machine Safety Survey is used to identify visible and hidden equipment hazards and determine if the investment in a full a risk assessment is warranted (potentially saving thousands of dollars.)
Our thorough safety risk assessment evaluates the risks associated with machine use and the tasks assigned to the machine operators or mechanical staff.
Provide a compliant and safe working environment.
Take the first step. Ask MPSA to identify your machine safety and compliance issues. We can do the rest.
Have a machine safety concern? Tell us about it!
Request an MPSA professional on-site visit to identify hazards in your machinery and processes.