Once the safeguarding solution has been installed, and before releasing the equipment for production, MPSA conducts a systematic validation procedure to confirm that the safety system conforms to the defined design scope and that the risk is controlled.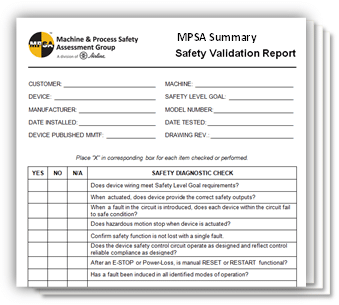 MPSA will generate a validation report to acknowledge that the required safety function conformance with ISO 13849 and meets all other relevant requirements. It is performed independently by a safety engineer who was not responsible for the design of the safety system.
The validation process can include the following:
A functional test of all safety components, including interlocks, safety light curtains, emergency stops, pilot devices, etc.

Introduction of faults to test dual-channel input circuits

Interruption of motors, pneumatic and hydraulic actuators, etc.

Faults in the output circuits by simulated conditions

Proper function and notification of bypass, safe speed, and standstill monitoring
Following the delivery of the completed validation report, the project manager will schedule a post-project review with the customer to discuss the project's level of success and identify areas of continuous improvement. In addition, you will receive a complete documentation package to help manage your change control requirements for Management of Change (MOC).
Learn how we fabricate machine guarding and assemble safety controls in our ISO 9001:2015 certified facilities.
We can schedule and manage the installation of your new safety solution when it best suits your manufacturing or operating schedule.
Provide a compliant and safe working environment.
Take the first step. Ask MPSA to identify your machine safety and compliance issues. We can do the rest.
Have a machine safety concern? Tell us about it!
Request an MPSA professional on-site visit to identify hazards in your machinery and processes.