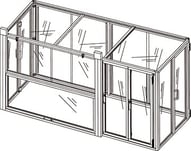 Did you know that isolation enclosures aren't just used for machine safety applications? A properly-engineered laboratory or machinery isolation enclosure can solve other needs, such as employee exposure control, noise abatement, product quality protection, environmental controls, and more.
In this blog post, we'll review the benefits of isolation enclosures and cover their specific applications and benefits.

What Are Isolation Enclosures?
Isolation enclosures are some of the most important tools for controlling exposure to hazardous materials. But did you know, that with customized isolation enclosures, laboratory or production personnel can be protected from access to hazards, noise, heat, and hazardous material emissions from equipment or processes? Even better, the custom design allows for a seamless and safe environment where production time and quality aren't compromised.


There are many types of laboratory and production isolation enclosures available, including ventilated balance enclosures (VBEs), glove boxes, downdraft tables, and ductless fume hoods.


Isolation enclosures can also include features for:
- Material access
- Safe operator access
- Ventilation (ambient & process exhaust)
- Illumination
- Process utilities
- Fire protection
- Product and process security, and more

Did you know? MPSA offers customized food, beverage, and pharmaceutical-grade lab enclosures to meet cGMP compliance requirements for lab environments.
Visit our safety enclosures landing page for more information
Benefits of Isolation Enclosures
Isolation enclosures can be fully customized using durable and modular aluminum structural framing. This versatile assembly system features smooth surfaces and flushes mountings to avoid particle traps and minimize turbulence.
Enclosures Benefits Include:
- Reduce facility HVAC requirements
- Improve product & material quality
- Reduce employee noise exposure
- Reduce employee exposure to hazardous emissions
- Control environmental emissions

Optional Enclosure Features



HEPA Fan Filter Modules:
24″x48″, 115 VAC 60 Hz., 62db @90 FPM noise level, adjustable air velocity range of 50-120, the filter is PSL challenged. Includes mounting brackets and hardware. Available in 24″x24″.
LED Lighting:
Low power, low heat, dimmable, and environmentally hardened.
Fluorescent Light Fixtures:
115VAC 60Hz. a single unit is designed for mounting outside of the enclosure. Standard fluorescent lamps are shipped separately.
Germicidal Ultraviolet Irradiator Light Fixtures:
Single lamp fixtures. 48″ long. Units will deliver 19.3 watts of ultraviolet output (rated at 254 nanometers at 100 hours and 80F°) 120 VAC 60 Hz are standard. Includes mounts, hardware, and brackets. Other lengths are available.
Custom Controls:
MPSA can install all necessary controls or even design and assemble a complete control system, depending on your needs.
Summary
Isolation enclosures protect laboratory and production personnel from hazardous fumes or gasses and prevent contamination of the working environment. Their benefits are essential for creating a safe and compliant working environment. For assistance with customizing an isolation enclosure for your laboratory or production environment, contact MPSA for step-by-step assistance.
MPSA specializes in enclosures; small, big, simple, or complex. When adequately designed, our custom isolation enclosures can allow you to mitigate or control several occupational exposures using this single approach. Learn more about the different types of custom isolation enclosures MPSA specializes in here.
Contact MPSA
If you have any questions or comments please do not hesitate to contact our MPSA machine safety experts.
Resources & Information