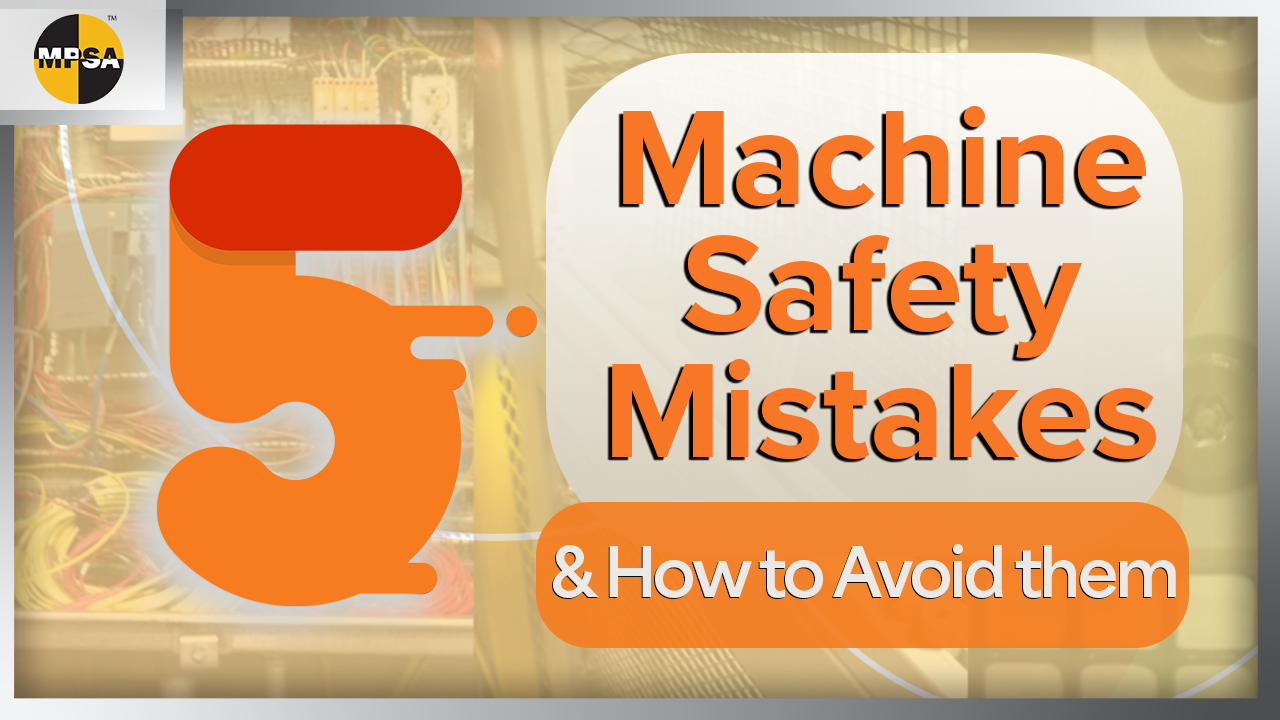 5 Machine Safety Mistakes & How to Avoid them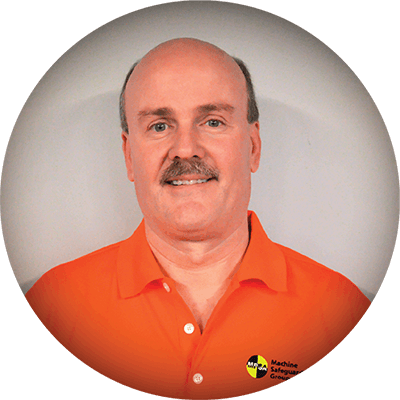 Machinery significantly improves workplace efficiency and productivity, but machine safety deficiencies (mistakes) can put your employees, business, and reputation at risk. We understand machine safety projects can be complicated and frustrating. And we know several commonly observed machine safety mistakes impact human cost, compliance, and legal matters. With MPSA's 30-plus years of expertise, we've unfortunately seen some of the worst. Today's blog will discuss five commonly observed machine safety mistakes.
Skip to a Section



Cabinet Control | Barrier Guards | Safety Interlocking System | Easily Accessible Guard Removal Tools | Tamper-Resistant Hardware | How to Avoid Machine Safety Mistakes


Machine Safety Mistakes Lead to...
Human Cost:
The increased risk of severe injuries and fatalities in the workplace when proper machine safety controls are not observed.

Compliance & Legal Issues:

Machine safety design and related operating procedures must meet regulatory requirements and observe industry-recognized standards. Failure to comply with applicable requirements or standards can lead to regulatory, legal, reputational, and financial liabilities, including penalties and litigation.


1. Messy Control Cabinets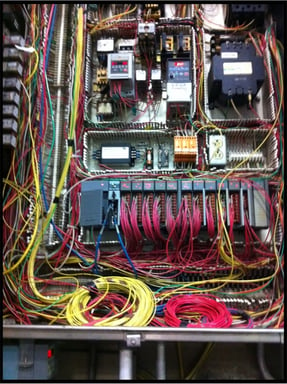 Over the years, MPSA has seen hundreds of machine control cabinets poorly designed, maintained, or subject to poorly executed changes. And it leads to frequent control and machinery malfunctions, challenging and delayed maintenance, and the potential failure of safety components and safety systems, creating unknown hazardous conditions.
Integrated Controls

As part of our safety solution, MPSA can include integrated safety controls for all types of control & power systems with hard-wired & programmable controllers. Learn more today!
2. Inadequate Barrier Guards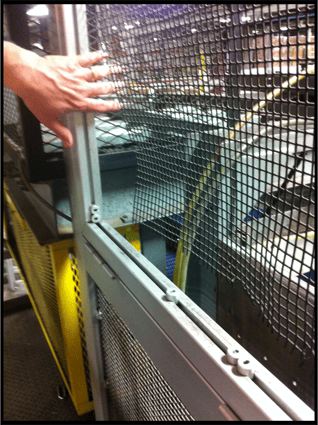 When installed, barrier guards should be integrated into the machine's safety control system. Unfortunately, over the years, MPSA has encountered too many barrier guards with inadequate design, strength, or installation. Over time, inadequate barrier guards either physically fail, or are removed, permitting operator access to moving or hazardous parts.

Machine Guarding
MPSA designs customized mechanical guards with quality and durable materials, including Bosch Rexroth's aluminum framing and GSM's powder-coated steel frames. Learn more today!
3. S

afety Interlocking System
A typical machine safety misconception is that safety interlocking is complicated and unnecessary. As a result, many companies have implemented alternatives, such as Lock Out/Tag Out (LO/TO), for routine machine access needs. While LO/TO, when properly implemented, provides a suitable level of protection, it can be time-consuming and delay normal machine operations. One of its inherent weaknesses is the need for employees to fully observe and properly implement LO/TO instructions in complete detail.
Therefore, LO/TO's greatest weakness is safety interlocking's greatest asset: a well-designed safety interlocking system forces operators to follow a predetermined engineered and undefeatable sequence they cannot deviate from. This compensates for any possible employee omissions or errors while successfully safeguarding against potential hazards during routine machinery access.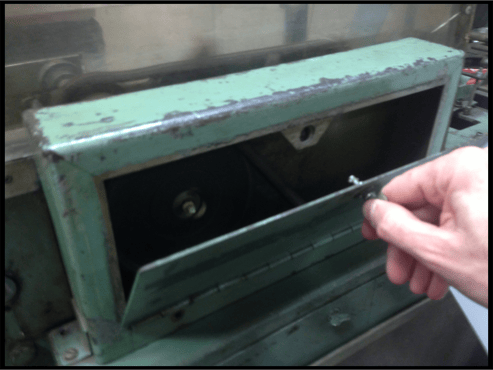 4.

Easily Accessible Guard Removal Tools
Any tool needed to open or remove a machinery safety guard or access panel should not be easily accessible to anyone in the workplace. Picture this; a standard, readily available screwdriver or Allen wrench can remove a critical safety guard or access panel, exposing a moving or hazardous part. Unfortunately, we see this deficiency way too often. For example, suppose safety guards or access panels are not interlocked. In that case, they must be affixed in place using tamper-resistant hardware that requires a unique tool only authorized personnel can access. (Not like the image below!)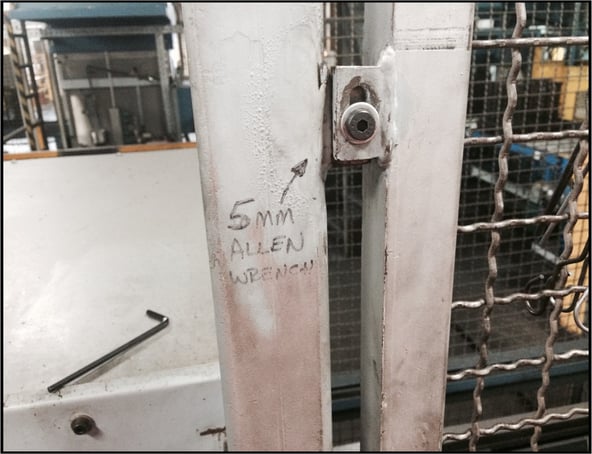 5. Not Using Tamper-Resistant Hardware
In addition to the above, hardware should also be tamper-resistant. This helps ensure only the authorized Lock Out/Tag Out personnel can perform maintenance or repair tasks with the proper training and knowledge. Without the correct hardware and tools, there is the risk of unauthorized removal of guards and access panels, which can result in serious, if not fatal, injuries.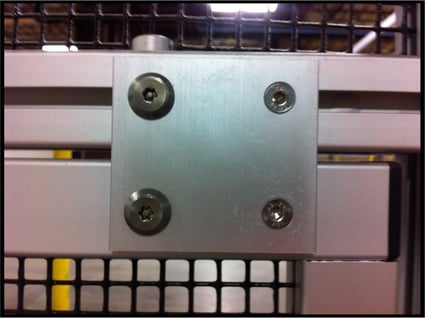 How to Avoid Machine Safety Mistakes
Machine safety mistakes and deficiencies are frustrating, especially when dealing with them alone. The best advice for companies dealing with machine safety deficiencies is to seek a trusted machine safety provider specializing in complete turnkey machine safety upgrade services like MPSA. MPSA can help from the initial risk assessment step to the safety system installation and validation. With MPSA, you can access the knowledge and products needed to complete your machine safety upgrade projects.


Machine Safety Risk Assessment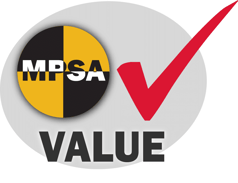 When it comes to machine safety, safety assessments are the first step toward safety standard compliance. MPSA offers two scalable assessment solutions. Learn more today or contact us!
Machine Safety Recourses
Most Recent
Safety must stand as an unwavering pillar in any laboratory setting, ensuring innovation thrives without compromising the well-being of those at the...
At your facilities, the utmost priority is the safety of your employees and the integrity of your operations. Every day, your machines are crucial in...
Ensuring the safety and well-being of employees operating industrial machinery requires a deliberate and well-designed approach. Applying "quick fixes
Did you know there's a crucial connection between machine safety maintenance and the well-being of your workers? It's true! And as technology...
Here at MPSA, we define turnkey machine safety solutions as designed, built, installed, validated, and ready to operate. But finding a trusted...
When it comes to machine safety development, it can be a struggle to know where to start. But through many years of experience, we know a systematic...
Machinery significantly improves workplace efficiency and productivity, but machine safety deficiencies (mistakes) can put your employees, business,...
Trying to determine whether or not your equipment is safe and compliant is challenging, especially when you don't have in-house personnel or...