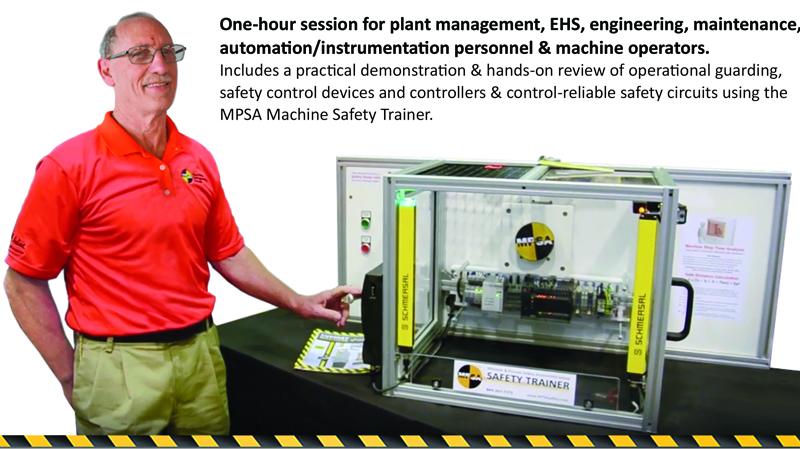 An awareness level machine safeguarding training course designed to provide students with a basic understanding of the organizational, regulatory, and technical challenges associated with the implementation of safe and compliant machine safety solutions. Students will also be introduced to methods on how to assess the adequacy of machine safety upgrades, safeguarding solutions and how to implement a machine safety program.
MPSA machine safety control instructors are CMSE® certified.
(TÜV NORD Certified Machinery Safety Expert)
Topics covered:
• Regulatory, legal & technical complexities
• Managing stakeholder needs
• Implementing a machine safety program
• Machine safeguarding process
• Key considerations for safe & compliant machinery
• Q&A session
MPSA's Machine Safety Trainer demonstrates these key safeguarding concepts:
• Dual-channel redundancy of the emergency-stop circuit and the safety input/output devices
• Monitored reset of emergency stop circuit
• Reliable control of the motor
• Safe-distance calculation for safety light curtain placement
• Proper selection and placement of physical guarding
MPSA's training sessions are scheduled upon request. For more information or to request a training session, call us at 844-267-7272 or submit the training request form below.
Have a machine safety concern? Tell us about it!
Request an MPSA professional on-site visit to identify hazards in your machinery and processes.